Avoid common digital transformation challenges – address your IT operating model now
Reports show that +70% of Nordic organizations planned on pursuing a digital transformation in 2020. To enable digital transformation, CIOs are increasingly focusing on the IT-infrastructure and implementing new IT operating models, bridging their digital and IT teams.
However, from MIT Sloan's latest digital report (see table), it is clear that organizations continue to be challenged during their digital transformation journey. 6 out of 8 identified challenges are directly caused by a lacking IT and Business governance structure. This highlights that some organizations continue to overlook the importance of having a well-structured and anchored operating model in place.
With organizations currently seeing first-hand that there is no business without technology, we anticipate IT budgets will grow significantly after the COVID-19 pandemic, with cyber security, digital and cloud transformation jumping to the top of Top Management agendas.
It is business critical for CIOs to address their operating model. They need to look at a Business Technology Operating Model – making IT an enabler for business growth.
Table: Top digital transformation challenges for organizations
Feedback from 1,030 digital executives on the top digital transformation challenges in their organizations with challenges related to digital governance highlighted in red. Link to analysis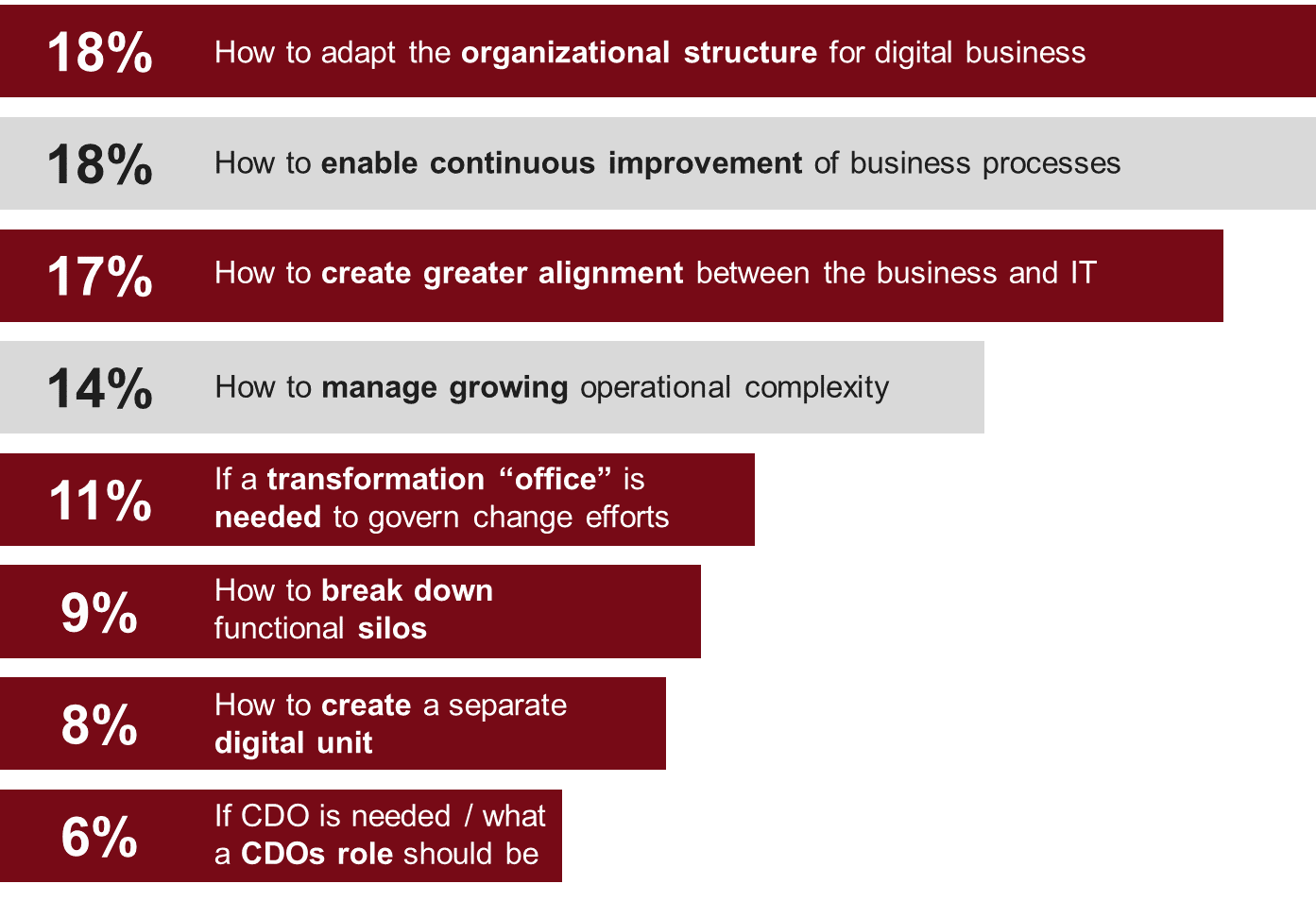 The value a Business Technology Operating Model adds to your digital transformation journey
More organizations are implementing a Business Technology Operating Model (see figure) because it provides a common framework for the business and IT to execute their digital transformation projects, ensuring IT contributes to business excellence.
By having a unified way of working, common language and culture, unified roles and responsibilities, understood and adopted by business executives and partners, organizations immediately address the most frequent digital transformation challenges of, breaking down the functional silos and adapting their organization for digital business.
A Business Technology Operating Model provides unified processes and practices creating clear and transparent decision-making practices for organizations – where both the business and IT are aligned and involved. This provides the value of a single source of information and an end-to-end visibility from idea and innovation management to development and onto service operations.
Figure: Business Technology Operating Model
High-level illustration of how a company can create business value with information technology. It presents the company's strategic excellence topics, value streams and business technology value adding elements.

The five disciplines a Business Technology Operating Model provides organizations
Strategy and Governance: Provides organizations with a structure that ensures their business technology strategy and operating model support the business objectives. This discipline is usually driven by the CIO or an appointed Governance Officer.
Demand: Ensures IT captures the business needs and requirements and turns development initiatives into operational actions. The demand discipline ensures the creation of innovations and concepts as well as analysis of feasibility. This discipline is usually led by the Chief Digital Officer, Business / Divisional CIOs and Service Owners.
Development: Provides an agile way-of-working, building new solutions and improving current capabilities. It includes designing and developing business initiatives and is responsible for building operational readiness and working solutions. This discipline is usually led by the Development (Portfolio) Officer together with project and product owners.
Services: Runs business services and provides service support. Responsible for business continuity and led by the Operations Officer.
Sourcing and Optimization: Ensures organizations have the services that best fit their business purposes. Focuses on constantly optimizing the delivery ecosystem to provide services cost-efficiently and appropriately. The discipline is owned by the Sourcing Lead and the Service Owners and who have the responsibility on end-to-end service excellence.
Closing the void between business and IT through your organizations operating model, enables a more unified, agile, scalable and efficient way-of-working, delivering solutions faster, at lower costs, while ensuring innovation and business needs are continuously prioritized.
Avoid facing the same challenges on your digital transformation journey. Set up your operating model to support your organizations digitalization. Implement a Business Technology Operating Model.
Sofigate has implemented over 150 Business Technology Operating Models at some of the largest Nordic companies. We are Nordic leaders within Business Technology Transformation services, and we know through our experience that closing the void between business and IT, is a required enabler for organizations to successfully go through a digital transformation.
Want to have an open discussion about your current digital transformation and IT Operating Model challenges, then please reach out to one of our experts.