"I don't just aspire to be a world-class athlete – I also aim to excel at my job at an equally high level"
Markus Sipilä was a world-class curling athlete and engaged in large customer projects at Sofigate. Then, in his early forties as a family man, he got an opportunity to train for the Olympics. How has he managed it all?
Back in 1997, a classmate whispered to Markus Sipilä during a Swedish class, asking if he wanted to try curling. "Sure", Markus whispered back, even though he didn't quite know what curling was. He thought it might involve something played with a pen and paper, like Battleship.
After the school day, Markus discovered that curling was a sport played on ice. If you have watched the Winter Olympics, you have seen it. It's the sport where men and women first slide with a large stone and then sweep the ice with brooms to make the stone go farther.
"I was immediately hooked", Markus says with a laugh.
"Curling is unlike any other sport. It's largely a game of skill, but it blends individual performance with teamwork. It's extremely strategic and far more physically demanding than, say, snooker."
The road to 2026 Winter Olympics
Curling went from being a hobby to a full-blown sports career. Just two years after that Swedish class, Markus won his first Finnish Junior Championship. He continued competing at the national level during his university studies and even after launching a career in business technology.
When Markus was interviewed for a position at Sofigate in 2009, he asked how difficult it would be to have time off for competitions.
"I'm not someone who often finds themselves speechless, but at that point my jaw dropped. The immediate response from Sofigate was that it's more than OK, that the company really wants people to have a life that does not consist of just work", Markus says.
At Sofigate, Markus worked on increasingly ambitious customer assignments and ended up managing a strategic co-creation project between one of the largest companies in Finland and a global tech giant.
Simultaneously, his curling team continued to develop. In 2017, Markus shifted his focus from men's curling to Mixed Curling, where the team consists of two female and two male players. His team won five Finnish Mixed Championship titles in a row and represented Finland several times in World Championships, finishing fifth in 2022. In 2021 Markus started to compete in Mixed Doubles curling with Lotta Immonen, taking their training to an even more serious level.
In April 2023, Markus and Lotta won a World Curling Tour event, defeating teams ranked first and second globally. Following that success, the Finnish Olympic Committee began supporting their journey towards the 2026 Winter Olympics in Milano-Cortina.
"I don't like the term 'work-life balance'"
So, how does one juggle training for the Olympics with a high-responsibility job in business technology and a family with two children? It's not easy, but it's possible with meticulous long-term and short-term planning, a supportive employer, supportive clients and a supportive family.
Markus currently works as a Senior Advisor helping customers to turn data into value. He works quite a lot remotely, both from home and from Kisakallio Sports Institute, before or after his training sessions. He estimates that he works roughly 75% of the normal working hours, although the percentage is lower during the tournament season.
"Being able to practice during the daytime is key here. This way, all the time I spend practicing is not time away from my family", Markus says.
Markus follows an intensive regimen of endurance and strength training and trains several times a week on ice with his teammate Lotta, who works in shifts as a police officer, adding another layer of scheduling complexity. In addition to up to nine weekly training sessions, he practices mindfulness, aiding his focus not only during long and demanding curling tournaments but also at work and with his family.
"I don't like the term 'work-life balance' because it sounds to me like work and life would somehow be opposites to each other. I prefer to talk about 'life balance', because high performance at sports or at work can only be achieved if your whole life is in balance. I love everything in my life, including the work, and I don't need a separate off-duty life to escape from my job", Markus says.
"The key is being present. Knowing who you are, what you want, and fully concentrating on your current moment. I don't just strive to be a world-class athlete, I also aim to excel at my job and be a great husband and father."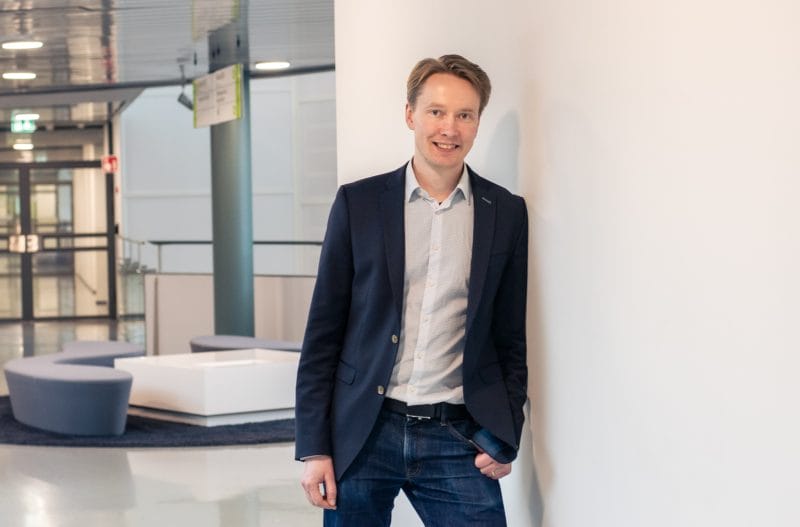 Living a dream
Now 43, Markus emphasizes that curling is a rare sport where one can compete at the highest level in their forties. In curling, it's possible to become an Olympic athlete after building a successful business career.
So, has he sacrificed anything? Quite the contrary.
"If you ask about success, you first need to define it because it's different for everybody. I believe that all of this has made me better in everything I do. I have the privilege of pursuing my sports goal, a rewarding job with great clients, and a wonderfuI family. Right now, I'd say I'm living my dream", Markus says, beaming.