Leader: Did you include wellness work in your project plans? If not, here are three reasons why you should!
Digital transformation projects require resilience from employees. Schedules are tight, the stakes for success are high and resources are never abundant. So why are people – the key resource of any project – so often neglected, even though statistically so many projects fail?
The most valuable resource in all IT and technology projects are the people who work on them. Despite this, taking care of the well-being of people is often at the bottom of the project manager's priority list. However, from the perspective of the project actually succeeding, there are several reasons why wellness work should be prioritised. Here are three things I consider to be the most important:
1. Take care of the well-being of your experts and help them commit to your company
According to the PMI Report, one of the biggest reasons for the failure of IT projects is a shortage of resources: a shortage of talented people. By taking care of the well-being of the people working on your project, you ensure that the experts stay "under your roof" from start to finish. Paying attention to well-being means you won't lose key employees to burnout due to a heavy workload or to other employers because of poor management. By managing the wellness work professionally, you also ensure that important tacit knowledge is maintained in your company.
2. Help to lead well
Good leadership is a part of well-being work. When you organise your wellness work centrally, you also ensure that good leadership practices are implemented. In this way, management work is not only the responsibility of project managers or the management team. Instead, the responsibility is shared. In practice, supporting good management as part of well-being work can mean for example supervisor or management training or workshops in the areas of time management, stress management, or even remote work management. The person in charge of well-being should work seamlessly with the team leaders and support them in good leadership. When management works well and seamlessly, project turnaround times are also faster.
What is the most frustrating feeling for a growth company leader right now? Read what our CEO Sami Karkkila has to say
3. Support teamwork and team spirit to achieve goals faster
Big projects bring together a large number of people from different companies, so you also encounter a wide range of work cultures and environments. However, the success of a project requires that people feel social cohesion and share the idea of ​​working towards a common goal. Centralised wellness work helps you to build team spirit and therefore improve cooperation and communication. Especially when working remotely, the different teams and parts of the project need to know each other and communicate with each other clearly to ensure success. Activities that improve team spirit and cooperation should be thought of and developed together with those working on the project.
Centralised wellness operations ensure that the project is successful
Compared to process work, you are often under great pressure in project work because of the budget, the schedule and the desired results. People working on projects are often separate from their own organizations and teams, and they form their own work community. Work for well-being is always done in everyday situations, and when guided from the outside, it can easily feel forced. This is why wellness work must take place where the people are.
In the case of a multinational multi-supplier environment, combining well-being and leadership is more important than ever, but at the same time more challenging than ever. In such an environment, the project employee's own HR representative can often seem distant and not aware of the work culture, habits, and management of the project. Thus, there is a need for a dedicated project well-being team or person who ensures the success of the project by taking care of the well-being of each employee.
Are you looking for someone to exchange views with you about successful project management? Contact us!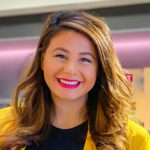 Selina Bakir is Sofigate's own multidisciplinary project manager, whose unique skill is to ensure the success of digital transformation projects from a human perspective. She has a great deal of experience in launching and guiding new projects in various fields. Selina is passionate about people-oriented leadership and ensuring people's well-being in hectic work environments.