No more pompous bosses – growth companies want these kinds of leaders
Once upon a time, business executives were authoritative, all-knowing figures that employees viewed with awe and respect. Time has done away with this caricature; today, a successful growth company will be led by a coach of a super team – not a superhuman. Sofigate's CEO Sami Karkkila explains what kinds of leaders he would hire straight off.
When I started as Sofigate's CEO in 2014, our turnover was 20 million euros and we had just over 100 employees. In six years, our size has increased fivefold, to 100 million euros and 600 employees. Now, we are about to grow into a 500-million-euro company by 2025.
During these years, I have learned valuable lessons in leading a growth company. I have discovered that in the ever more complex world of disruption, a classic pompous boss just won't do. It is hard to imagine a figure head at the helm of a company now, telling everybody how things are and should be done.
What are successful growth leaders like? In my experience, they are like this:
1. Leaders of growth companies are not superhumans but builders and coaches of super teams
It is high time to scrap personality cults which have the leader as an omnipotent hero – if in fact anyone had this idea anymore. Real growth leaders are able to lead, coach, and facilitate super teams.
In the team, they value versatile characteristics and foster diversity. They have empathy which allows them to combine different people and their skills. They trust the people they have chosen to be in their team.
2. They think big, start small, and can replicate successes quickly
I subscribe to the old 'Think big, start small, scale fast' thinking in the life of a growth company. Leaders cannot be responsible alone, but a lot depends on how they encourage others to think. They must be able to convey a vision to their teams, inspire them to try out ideas, and help them focus and find the ones they should concentrate on cultivating and replicating.
Without thinking big, you cannot grow. Growth may require the audacity to make completely outlandish promises – as long as you make them believable. This is why good growth leaders are champion storytellers and skilled communicators. If these skills are not top-notch, the chances of success take a nosedive.
3. In their stories, the client is always at the centre, and they look outwards
You cannot build growth sustainably unless you can create significant value for your clients. This is why growth leaders always make sure that the client is and stays at the heart of the story.
Overall, growth leaders look outwards in their thinking. They do not hide in their chamber and look for solutions from the inside. They lead their troops from the front to create new things together with clients and partner networks.
Sofigate would not be Sofigate without the Business Technology Standard we have created with our Nordic client organisations to digitise their business. The open framework model has over 10,000 users globally.
4. They are not afraid to live in uncertainty
To paraphrase my colleague Sanna Siniketo: Life in a growth company is like ski jumping. Sometimes your feet have hardly touched the ground when you need to take off again and take the next jump. This is why growth company leaders must have the stomach for uncertainty, as sometimes you jump straight into a fog.
Turbulence is a constant state of affairs in a growth company. New people come in and changes take place all the time. Experiments are made. It is acceptable not to have everything ready. Decisions can be made quickly.
What is the most frustrating feeling for a growth company leader right now?
5. They are always learning – and urge others to do the same
When I look back and think of what has been critical to me personally as Sofigate's CEO, one thing stands out: the ability to learn. Ability – and desire – to learn speeds up your development hugely. When I got into an environment with a solid foundation for learning and development, I found a true connection to my organization. I am extremely grateful for this.
Learning is sometimes considered something big that requires huge effort. Sure, it is good to have organisational structures that provide support to learning. As a new CEO in 2014, I went to Sofigate's Business Technology Academy straight away – just like all other new Sofigators.
But learning takes place every single day, and growth leaders will seize all opportunities. They learn from clients, employees, mistakes, successes. They learn about themselves. They inspire their teams to learn all the time.
Are you a true digital leader? Our experts shares key characteristics digital leaders have in common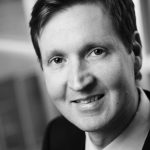 Sami Karkkila is the CEO of Sofigate, a growth company specialising in business technology change. Sofigate has 600 employees in Finland, Sweden, and Denmark. The company intends to increase its revenue from 100 million to 500 million euros by 2025. In the Karkkila blog series, the CEO discusses how to lead and manage growth sustainably in a new and constantly changing reality.