Gambling with your customer success? Here are some proven ways to get it done right and easy.
Want to know what our most successful customers do to drive efficient value streams? Sofigate is at ServiceNow's Knowledge 2019 conference in Las Vegas to get the ins-and-outs of successful implementation examples of the platform. Knowledge is a great place for customers to share their best practices and insights using the services. This insight presents the top issues and outcomes from this conference communicated by Sofigate experts. This is how Sofigate will continue using ServiceNow to join the global movement in productivity and customer experience.
ServiceNow is a Software-as-a-Service (SaaS) provider who helps companies and organisations to automate IT, Employee and Customer workflows with Enterprise solutions that drive every part of their customers' digital transformation. Praised as the world's #1 innovative company by Forbes, ServiceNow is currently hosting its annual user conference, Knowledge 2019, in Las Vegas. The main focus is on how modern digital workflows can unlock productivity and transform the employee and customer experience. As ServiceNow's biggest partner in the Nordics, Sofigate is thrilled to be onsite in Vegas. At Knowledge, ServiceNow is giving their customers the opportunity to learn from the best practices of their industry peers; the majority of the presentations and breakout sessions at Knowledge are hosted by customers who showcase their ServiceNow use cases.
ServiceNow has aggregated their customers' findings into their Success Pillars. Each pillar provides activities to guide users on their path to success. With Sofigate being the top ServiceNow implementor in the Nordics, it is no coincidence that the activities match our professional services offerings. Together with hundreds of clients in the Nordics, Sofigate has created a proven open-source model for aligning the business with IT: the Business Technology Standard (BTS). It is a guide for building your competence to manage information technology and digital transformation.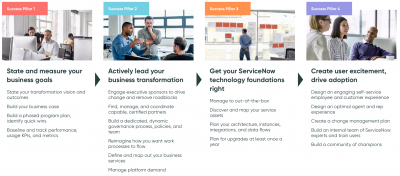 Sofigate addresses the four pillars of customer success: Setting your business goals, lead transformations, getting your SN foundation right and drive user adoption.
ServiceNow's four Success Pillars include:
State and measure your business goals. Define your vision for digital transformation, create your business case and roadmap, and measure your progress. This ties directly into the Strategy and Governance stream in the BTS, including Objectives, Scorecard & Steering, and the Operating Model that ties together Business Demand with Development and Service Delivery.
Actively lead your business transformation. Workflow redesign, digitized business services, and strong partnerships. Service Integration and Management (SIAM) is a discipline that adresses the challenges of a multivendor ecosystems involved in the delivery of your services. The BTS "Services" stream takes into account the full lifecycle of Service Delivery and assures that the customer is in full control.
Get your ServiceNow technology foundations right. Put a solid technical foundation in place for your ServiceNow implementation. Sofigate's ServiceNow architects and specialists have proven track records of numerous successful implementations throughout the Nordics. To reduce time-to-value Sofigate offers a set of ready-to-use best practices and solutions, based on real-life experience, being utilized by many of our customers.
Create user excitement, drive adoption. You're ready to build great user experiences and quicken adoption throughout your organization. We have the concepts in place and expert teams working to optimize user experiences as well as the all-important aspect of Organisational Change Management before, during and after a large transition.
Get a hold of real-life success stories of how ServiceNow is utilized to create optimal customer value, just follow the link below.
https://www.servicenow.com/success.html
ServiceNow carries exceptional knowledge and skill of the technology behind the plattform. Sofigate have both the technology and the business know-how. Do you want to learn how to maximize your products, solutions or roadmaps using ServiceNow? Sofigate is ServiceNow's biggest partner in the Nordics, we help our customers when realizing a successful implementation.
Send us an email with your questions. We will be happy to help.